Summer Challenge
Monday, June 13, 2022 by Jennie Higgins | Practice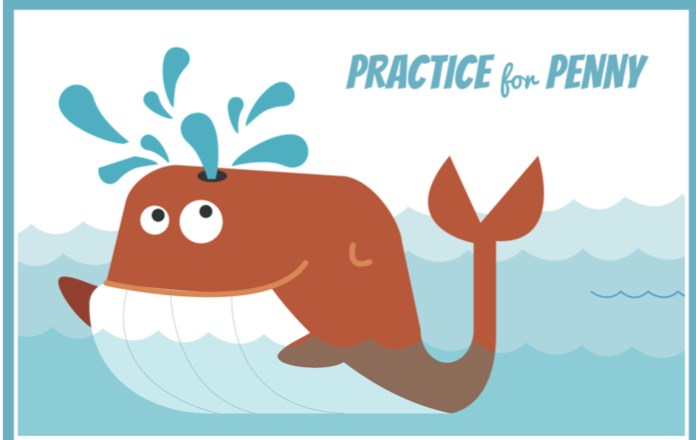 It is that time of year. Everything is wrapping up for the school year, and kids are excited to be on summer holidays.
But what does that mean for piano lessons? I do encourage students to go through the summer to keep up their studies. However, I do understand those who are away and will join once again in the fall. But regardless if you are going through the summer or not, it is so fun to pick a summer practice challenge. I know I am.
Transfer or returning students are most welcome to take part of our summer practice challenge. Just send me a quick email, and I would be happy to send the challenge of your choice to you.
1. Sticker Dots Piano Project
- grap a packet of small coloured dot stickers from the dollar store, Walmart or wherever you can get them the cheapest.
- Play all of your music you have learned this year and follow the colour chart to see what dot you put on each song
- can be printed or just viewed to see the instructions
2. Practice for Penny
- Penny the whale is a cute story about a baby whale who is looking for her song to find her family.
- print the final page of the file for the cards.
- students show your parents/friends/spouse/family where you have played up to so they can randomly place a "Penny the Whale" card in each one.
- each week, fine one card. Write the date you practiced that song on the back of the card and leave it there.
- in the fall, show me what you have played each week and I will choose one to be Penny's song to find her family.
3. Popsicle Practice Tracker
- we have done many of these over the year, and I probably will continue to send them.
- this one is the hardest one of all.
- Print the second page of this one only. The first page is just the example page of how it will look when finished.
- 81 days of practice. This needs to be started in June (now) until I see you again after labour day in the fall.
Remember, it's not how many times you practice, it's how many days you practice.
I hope this helps to fill your summer with music. 🎶🎹
Sincerely,
Mrs. Jennie